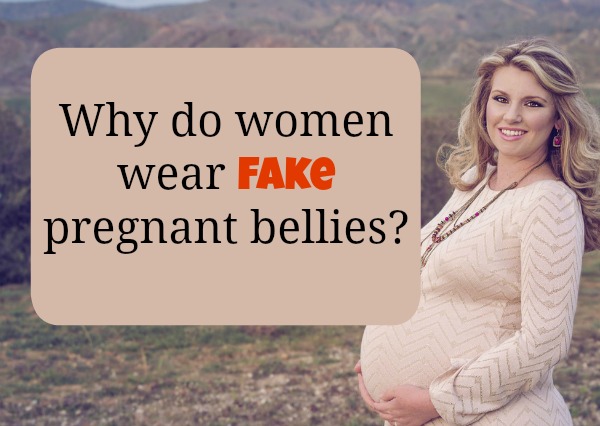 The first question has to be why would a woman choose to wear a fake pregnant belly? I can understand that some in the fashion industry may require a model to don a silicone belly when promoting a new line of maternity wear, and they could very well be used in theatre, movies and for television shoes, but for the regular female, the question remains.  Why?
Simulated pregnancy versus false pregnancy
There of course are some women who do all they can to simulate a pregnancy. A simulated pregnancy is a deliberate attempt to create the false impression of pregnancy. It should not be confused with false pregnancy, where the woman mistakenly believes that she is pregnant.
Professional use of a fake pregnant belly
As mentioned earlier top maternity fashion houses around the world claim to have used non-pregnant women with prosthetic bellies at various times. Mothers say such models offer unrealistic images for women to compare themselves.  They are also extensively used for stage and screen performances and advertising.
Wearing a fake pregnant belly for bonding reasons
Research shows that some women choose to wear a fake belly for strengthening emotional bonds as you move forward with a planned surrogacy or adoption.
How to fake a pregnancy
Women who wish to look pregnant, generally for social or psychological purposes, have the option of body suits and the like to wear under their clothes. It can be done by using pillows or pads,
or light-weighing, small balls with a round shape to simulate a pregnant abdomen. A common practice is to place a form replicating a belly (rolled up clothes, deflated ball, etc) under a skin colored, tight bodysuit. This creates a realistic color and shape.
You can of course purchase any number of novelty costume baby
bumps. What makes this even more frightening (or funny, depending on your perspective) is that availability of fake ultrasound images that are also available.
Fake pregnant belly costumes
Another reason that women, and men for that matter, may be looking for a fake pregnant belly is for a costume party or dress up.
Why do women fake a pregnancy?
The reasons for a woman to desire a simulated pregnancy vary greatly from one individual to another. It could be an intellectual curiosity on one end, a cosmetic effect or social experiment, or part of a larger psychological issue.
Have you ever worn a fake pregnant belly?