A maternity photo shoot is one of the most exciting photo sessions any couple can have.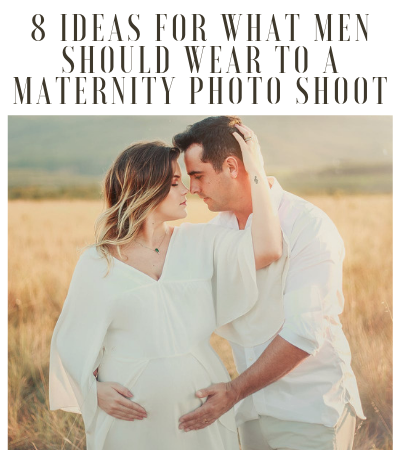 Whilst there is always a lot of focus on the woman and her baby bump, attention should also be given to husbands and partners.  New dads get just as excited and have a right to shine too!
Women are offered advice on what to wear, what not to wear, how to prepare their hair and nails and even how to pose when having maternity photos taken, but what about the men?
What should the "New Dad" wear?
Here are 8 tips on what a man should wear to a maternity photo session.
1. Dark Pants
Men should wear dark pants if possible.  Jeans or khaki pants are fine
2. Light colored shirts
A lovely simple plain white shirt always looks fresh. Cotton and linen are both great choices.
3. Simple crew neck jumper
A classical white or black crew-neck top or jumper is also a great idea.
4. Solid colors
Just like women, avoid loud bright colors or wild patterns.  Bring solid, dark colors like black, dark brown, navy blue and charcoal gray tops and bottoms.
5. Layers
Layers are great options and help to create different looks. A blazer with a plain white t-shirt, a sweater and a jacket and even a scarf, depending on the season of course.
6. Classy shoes
Men should consider wearing dress shoes or loafers.  They are simply and offer an elegant touch.
7. Polo shirt
For a more casual look, wear a polo shirt.  Tuck into a nice pair of pants with a belt.
8. Matching
You can always plan to wear matching clothes to a women –  a classic white shirt and a pair of jeans, barefoot for a natural look or clothing that sets a scene. You can also go topless and compare your belly to hers. And then again, you don't have to perfectly match the family, just wear something that does not clash but makes you feel you!
And men, don't forget to have a freshly shaved face or trim your beard.  Just like women, make sure your nails are clean and hair styled just as you like it!
Clothing to avoid wearing to a maternity session – this goes for men and women!
1. Lint covered clothes
If your jumper has lint balls on it, don't wear it. They stand out in photos very clearly.
2. Old or dirty shoes
Scruffy, old shoes that are not clean are not a nice look. Leave them home.
3. Running shoes
Whilst runners may be comfortable, they aren't going to give the best look.
4. Logos
Whether you are wearing a t-shirt, shirt or jumper, please avoid wearing anything with writing or a logo on it.  It becomes a distraction.