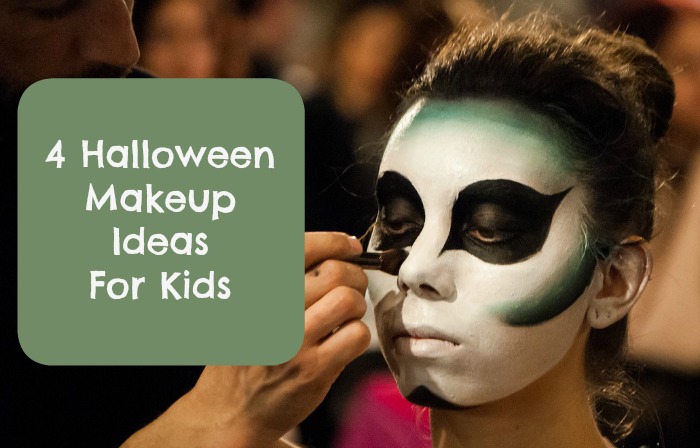 Every child loves to have their face painted. What we now know however is that skin can be super sensitive and it's always important that we choose face paints that are not laden with nasty chemicals. To bring life to a Halloween costume this year, consider some clever Halloween make up designs. You don't need extensive makeup training, nor do you need to be a famous artist.  Keep it simple, use just a few colors and aim to get it done fast; we all know how impatient excited kids can be.
Here are 4 easy to create Halloween face paint ideas
1. The vampire
Start off with a white base and use purple (yes, purple), to create sunken cheekbones and shadows. Even add a touch of purple eye shadow and then a dash of red or pink under the eyes. Blood red lips are a must. Whilst you may reach for fake blood, be careful as this can stain so look out for a red crayon that you can then use to create a dribble of blood running from the size of the mouth.  Pop in some plastic, fake fangs and you're done!
2. Cobwebs
One of the simplest face painting ideas is a cobweb. Spider webs are all the go and it is  actually a quick, easy and effective way to get your child into the spirit of Halloween without too much fuss. Centre the web on the tip of the nose and draw 5-6 black lines radiating outwards. Then sketch in the connecting bars of the web. A hairy rubber spider is the perfect accessory!
3. Witch
For the perfect wicked witch or warlock face paint design, start with a base color of green body or face paint, then use yellow to add highlights on the nose, chin, forehead and cheeks. White or yellow eye shadow gives the eyes a sunken appearance. Don't forget to add a few black wrinkles to the face too. Finish with black or dark green lipstick and a must have glue-on wart! Please use a child safe adhesive.
4. The pumpkin
What's easier than painting a pumpkin.  Using an orange base, some dark green or grey lines to highlight the creases and a stem attached to a headband and your orange outfit is complete.
Face paint is the finishing touch to your child's Halloween costume, so have them fully dressed and any wig or hair style completed before you start. Pop an apron or old shirt over their costume if you're concerned about getting makeup on their clothes. Make sure it can be removed without smudging the child's face.
Halloween makeup ideas are a great opportunity to let kid's imaginations run riot. If you choose products that are child friendly and which will wash off easily, you'll create some magic memories with fewer tears at the end of the party.
Our recommendation for kids face painting are numerous but the key is to look for products that are non-toxic, paraben-free, lead-free, organic and hypoallergenic. These won't irritate nor leave your kid's skin dry or itchy. And when you opt for a  water-based formula it makes face paint easy to remove. Simply wash it with soap and rinse with warm water. And if you are not that confident, look for a set that comes with stencils like this one below.
We earn a commission if you make a purchase, at no additional cost to you.