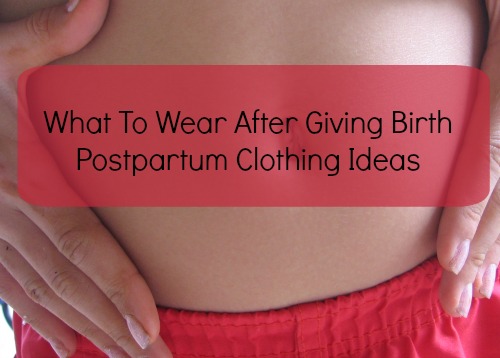 There's so much to do and remember in the days leading up to giving birth.  Making sure you've packed your hospital bag, essentials for your newborn and even considering what you will actually wear during labor.
Don't forget to consider what you will wear after giving birth!
Here are 9 postpartum clothing ideas that will ensure you are comfortable and stylish.
Pants: Comfortable maternity leggings or yoga pants
Sleepwear: There's no need to go shopping for new pajamas however if you are, get something that is buttoned up so you can easily breastfeed or express when the time comes.
C-section: If you have a planned c-section or end up having one, it's important to wear the most appropriate clothes to protect your tummy. Here are out specific clothing recommendations on what to wear after a c-section
Tops: If you plan on breastfeeding you are going to want tops that provide you easy access. If you are not keen on traditional maternity wear, look for tank tops, maybe a cardigan or jumper that zips up the front and a couple of loose long sleeve tops
Nursing bra: Even though it can take a few days for your milk to come in, you'll be glad you've got a comfortable nursing bra at the ready.  And don't forget your breast pads too!
Robe: You can always wear the hospital gown but a lovely robe will provide you with warmth and coverage when needed.
Slippers or socks: Getting in and out of bed requires you to have something easy to slip on and off. Either wear comfy socks or pack some slippers or flat shoes that you don't need to bend over to put on.
Leak proof incontinence underwear: Light Bladder Leakage (LBL) is common and not often discussed. If you are experiencing this and suffering in silence there is a solution to help you.
Period panties: In preparation for your postpartum bleeding you may want to get yourself a pair.  Whilst you're period may not come in for some time after giving birth, these comfortable underwear options are great for keeping you dry and fresh.
Other than clothing, make sure you pack yourself a little pamper bag in your hospital bag.  Having a shower will make a world of difference and freshen you up.
As a matter of preparation, take a look at out guides on what you can and cannot wear during labor or a c-section, tips for what clothes to pack for your newborn and weigh up the pros and cons of reusable or disposable breast pads.