For some women, nursing leaks are all too frequent.  Breast Milk Leakage (BML) is a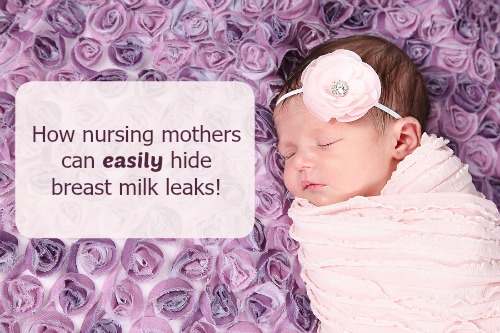 challenge that most new mothers encounter.  It can be inconvenient, embarrassing and uncomfortable.  BML is the uncontrollable release of breast milk in response to a reflex in lactating women known as "letdown".
Other than breast pads which will become a 24/7 best friend, there are some cleverly designed clothes you can wear (and ways to avoid wet patches altogether) which can help you hide any unexpected embarrassing wet spots.
Pro Tip: Press firmly on nipple for 5-10 seconds and that actually stops milk flow too
Mesh Tops: A layered mesh top miraculously sees any leaks dry up fast. The ability for airflow helps wet patches dry.
Glamour Mom nursing tank tops: This is effectively a supportive nursing bra and long tank in one. With its elastic shelf for breast support you can wear it on its own or use it as a layering piece. A light mesh liner holds nursing pads in place.  One of the biggest reasons for wet spots is because breast pads move.  When you are wearing this, there is no room for movement.
Patterned Clothing:  Solid colored shirts show wet stains a lot more obviously that shirts with loud patterns so stick to clothes with patterns and you'll be able to high leaks the best.
Milk collection shells:  Whilst breast shells are not an item of clothing they are a very handy accessory that is used to collect precious 'liquid gold' milk. They are discreet and comfortable meaning no more nursing pads or milk-stained shirts casino-room!  They contain no BPA and make for the perfect baby shower/new mom gift too.
Breast milk can also cause some pretty stubborn stains! Our guide to removing them is a must read.
Related: 12 Materials To Avoid (and wear) When Breastfeeding
It may be worthwhile reminding yourself of how often women should change their breast pads too,  Infrequent changing will see your pads become full and any leaking will have no where to go.
What are your tips to hiding unexpected, embarrassing wet patches?