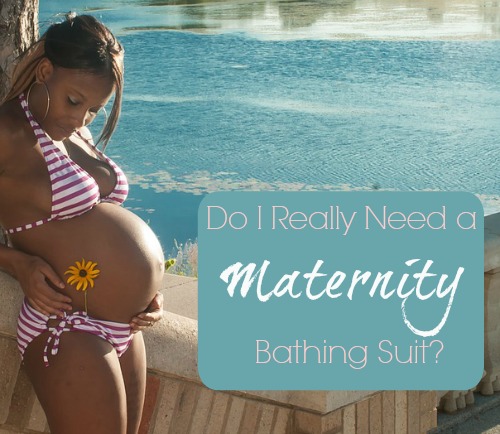 Is maternity swimwear a necessity or can you just get by with a regular bikini, tankini or one piece?  There's a bit to consider so let's walk through your options.
Whatever swimwear you usually wear will most likely still fit you for at least your first trimester.  Even from that point on, if you are comfortable to wear a bikini,  you'll have even less of a need to go out shopping. What you choose to wear is entirely up to you and very much determined on whether you want to hide your pregnant belly, be a little bit discrete, or show it off.
What are your options when it comes to choosing maternity swimwear?
If you are wanting to splash out on a maternity bathing suit, there are plenty of designs and options.
1. Tankini Top
If you are self-conscious about your tummy, then a tankini top is your best bet.   A tankini has a longer top which covers the belly but also has a separate, bikini style bottom. You can get these as a maternity swimsuit or regular non-maternity design.
This is also a good option postpartum too as it will help to hide your belly until you are comfortable.
2. Bikini Bottoms
If you love your bikini, you may want to purchase a new bikini bottom. You can either go up a size in your regular bikini style, try a bikini bottom with ties (totally adjustable), or bite the bullet and go for a maternity bikini. Make sure bikini bottoms fit under the belly and are slightly higher in the back. Look for elastic bands that won't dig into your skin.
3. Bikini Top
If you usually wear a bikini, you may only need to purchase a larger top size to accommodate the increase in your breasts – seek out opportunities to buy tops and bottoms separate. Look for adjustable halter styles that tie around the neck and back that can adjust to give you extra support.
4. Skirt Attachment
If you are self conscious about your legs thighs, consider wearing a swimsuit which has a short skirt option.
5. Sarong
A sarong is another good option for coverage out of the water.  This way you can wear a bathing suit that you feel most comfortable to swim in and cover up as needed when you are out.
6. Board Shorts
Some women like wearing board shorts with just a bikini top. You will need to position the waistband of the shorts underneath your bump as your pregnancy advances but this allows you to cover your legs a little, let your tummy be free and still have the support you need in a bather top.
7. Dark Colors
Remember to go for dark colors, small "busy" prints and vertical stripes or panels.  If you are conscious about your size, these elements will give off the illusion of being smaller.
8. One Piece
If you are looking for a one piece, look for a design that has gathering across the midsection so as your belly expands, the elasticised portion of the swimsuit will stretch too.
Maternity Swimwear: is it necessary?
For the short time that you'll wear it, I personally don't think a maternity bathing suit is a necessity. There are plenty of regular bikini and bathing suit styles that can accommodate changing body shapes. At the end of the day though, you should stick to your own style and you need to feel comfortable.  Many women (me included) love the fact that when pregnant, you've got this great big, tight belly, without the wobbly flabby bits, and you can try wearing a bikini for the first time.
What are your thoughts? An unnecessary expense or a  must have item as part of your maternity wardrobe?