5 Options: Natural vs. Commercial Cleaning Products
Natural vs. commercial cleaning products, what should you use? When it comes to choosing cleaning products for a home or office environment, the decision can be rather difficult because of the large range of both commercial and natural varieties available.   Let's have a look at the features of both options to determine which is best for you.  I will also highlight five of the top natural cleaning products for you to try out.
Commercial cleaners are a highly regulated industry that has strict guidelines for what is allowed in the cleaning product. These products are often harsher and more toxic than natural cleaners and can be dangerous to use if not used correctly. Natural cleaners, on the other hand, are products made with ingredients that are safe for the environment. One example of a natural cleaning product is vinegar. Vinegar is a versatile cleaning agent that can be used in a variety of ways. You can use vinegar to clean surfaces, remove odors, and clean your kitchen appliances.
What are natural cleaning products?
There are many natural cleaning products on the market today. Some of them are more effective than others, but they all have one thing in common- they are non-toxic.
Natural cleaning products are very often a product of choice for those who seek to minimize chemical use and ensure safety for pets and animals in the home.  With a new baby, baby on the way or kids in the house, you may be considering more natural cleaning products.
Typically, natural cleaning products use common household ingredients including baking soda, vinegar and citric acid, however as with all products, it is wise to test a small area first because some natural alternatives work perfectly on certain surfaces, while others may cause more damage.
What are commercial cleaning products?
Store-bought commercial cleaning products are manufactured to strict guidelines and while they can contain harmful ingredients, they are included in minimal amounts that allow them to be sold to consumers.  The biggest benefit of buying commercially is that there are clear instructions provided on how, when, and where to use the solution.  This takes away any potential confusion and ensures that the right product is purchased for its intended use.
The active ingredients used are often difficult to source individually, so replicating them at home can be hard. Even if it was possible, for safety reasons, the correct ratio is critical.
Which products are better?
The choice to select natural over commercial is growing in popularity as people lean towards opting for natural alternatives, particularly with respect to household cleaning.  In recognition of this, many commercial organizations have adapted common products and turned them into eco-friendly varieties, which give consumers a green alternative while still providing confidence of a superior clean.
The choice of natural versus commercial has to come down to personal preference and consideration of the area that requires cleaning. There is nothing wrong with using a mix of the two and stocking a laundry cupboard with a range of alternatives to cover all surfaces and stains.
Here are five of the best all-natural cleaning products to get you started.
The Honest Company Conscious Cleaning Vibes Kit
If you are new to natural cleaning or DIY cleaners, then this is the kit for you.  The kit has less waste as the refillable bottles can last up to a lifetime. The powerful cleaning formulas are made with only naturally derived ingredients.  The two scents included in the kit are citrus and mint.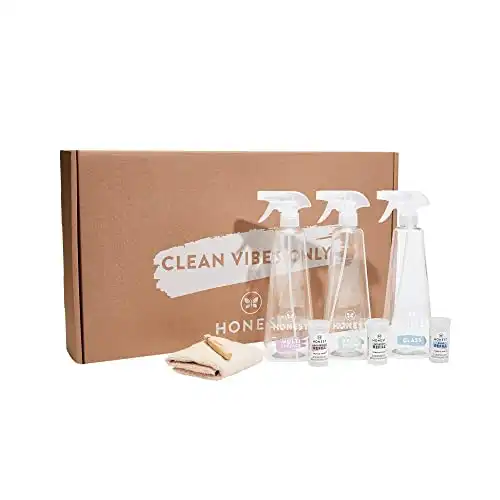 We earn a commission if you make a purchase, at no additional cost to you.
Obviously Fab Handmade Wool Dryer Balls
If you haven't heard of dryer balls, you are in for a treat!  This cute pack of six laundry balls means no more fabric softener or dryer sheets.  The Eco-friendly wool dryer balls are reusable with zero waste. Obviously, Fab handmade wool dryer balls are 100% premium organic New Zealand wool that is 100% biodegradable, it is chemical-free and scent-free, and safe for sensitive skin people.
Lazy Coconuts Eco Friendly Laundry Detergent Strips
The Lazy Coconut Laundry Soap Sheets are rated first for ingredients, cruelty-free, vegan and free of dye, perfume, parabens, phthalates and more—cleans clothes deep and removes odor, stains and dirt. 
We earn a commission if you make a purchase, at no additional cost to you.
Eco Being Natural Dish Brush Set
The Brush Bundle can be used for many cleaning tasks: This bamboo dish brush set has it all; You'll receive a Light Bristle Pot Brush, Heavy Bristle Pot Brush, Long Handle Scrub Brush, and Bottle Brush.  Unlike some kitchen brushes for dishes that break, bend or lose bristles after a few uses, these can handle tons of wear and tear and are built to last
We earn a commission if you make a purchase, at no additional cost to you.
Mrs Meyers Kitchen Essentials
You can't go wrong with Mrs. Meyers Kitchen Cleaning Essentials Kit. The set includes Liquid Dish Soap, Multi-Surface Everyday Cleaner, and Liquid Hand Soap and has four scents for you to choose from including lavender, Basil, Geranium, and Lemon Verbena.  
We earn a commission if you make a purchase, at no additional cost to you.
Do you have a preference for commercial, natural or DIY cleaning products? Let me know in the comments!