Looking for a list of items expectant mothers need to take to hospital? Look no further.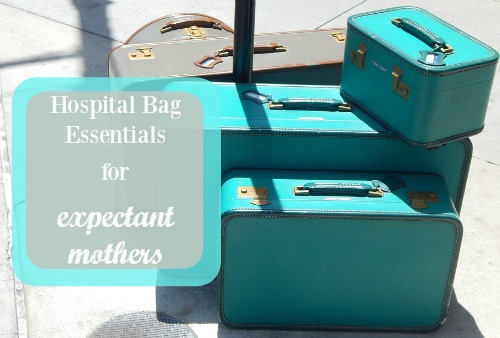 Do not leave it too late to pack your bags for the imminent arrival of your new baby. If this is your first child, knowing what you need to take to the hospital for yourself both during and after delivery, for your baby and for the daddy-to-be can feel very overwhelming.
Use this hospital packing checklist as a guide and give yourself enough time to get everything in order so that when the time comes you have one less thing to worry about. It is also a good idea to have your husband or birthing partner help with the preparation and packing so that they know where everything is tucked neatly into your bag for when the need arises.
Throughout the pregnancy, you are typically consumed with organising the essentials for when your baby arrives such as furniture and other care items and the last thing on your mind is packing your bag. It is however an essential component to a birth plan, particularly for a first time pregnancy. No one should be left out of this life changing event.
Before You Pack Your Baby Hospital Bag
Depending on your birth plan, your hospital of choice, or planned birth location, the items you will be required to pack may differ. It may be worth taking a tour also to see the environment and ask questions as to what is provided for you and what isn't.
Some allow you to wear your own clothing, others require hospital gowns
Some allow use of music and electronics, others will not
Some provide disposable diapers and wipes for newborns, others won't
What to pack for the delivery
Essential Paperwork
Hospital and Medical Information
Identification
Your birth plan (if you have one)
Essentials during labor
Comfortable clothing and warm socks
Something to tie your hair off your face
Camera or video recorder (for the birth) – don't forget to charge batteries
Mobile phone to message your friends and family
Optional items – it was relayed to me prior to me having my first child that taking lollies and snacks into labor was a good idea. Whilst I did, I did not ever feel like having them and the medication I was on precluded me from even eating or drinking. Others I know however have sipped on water and snacked. This is a purely personal decision. Nothing wrong with packing a few bits and pieces; even if you do not eat them your partner may.
Depending on your birth plan you may want to take music, massage oils or other relaxation items of your choice. Every birth is different so keep your options open.
Essentials after delivery
Comfortable sleep wear that is not restricting at all – particularly if you have had a c-section
Comfortable day wear in case you want to freshen up and dress for visitors
Front-opening tops or a maternity nightgown to allow for easy breastfeeding.
Flat slip on shoes or slippers so you can go for little walks around the corridors or outside
Underwear – lots and lots – take a look at period panties. Whilst you're postpartum bleeding may not come in for some time after giving birth, these comfortable underwear options are great for keeping you dry and fresh.
Nursing bra(s) – you may need a couple of sizes as when your milk comes in your breasts will enlarge significantly. Even if you choose not to breastfeed, these are comfortable solutions.
A going home outfit
Breast pads – when your milk arrives, your breasts may begin to leak milk so using a breast pad inside of your bra will absorb any wetness.
Toiletries: Breast Bads, Maternity Pads, Toothbrush and Toothpaste, Hairbrush, Shampoo & Conditioner, soap and moisturisers, nipple cream and makeup (non essential but may help you feel yourself again).
Some mothers prefer to use a preferred feeding pillow so if you have purchased one take that in also (ask hospital first to be sure). Other nursing aids include milk bands so help you remember which side you last breastfed from.
You may also want a journal or diary to make notes of important information you learn or hints and tips you pick up. You may even want to start recording your newborn's developments (as well as nappy changes, feeding times etc) straight away in one of the many gorgeous record books on the market.
What to pack for a newborn baby
Depending on the hospital, birthing suite or birthing location of your choice will depend on exactly what essential items you will need for your newborn.
Some hospitals provide nappies (diapers) and wipes, whilst others do not so check beforehand so you are prepared.
Swaddles, wraps and blankets
Outfits for the baby – multiple changes – sometimes bring a couple of sizes as you never know. Jumpsuits and Singlets.
A special going home outfit
Pacifier
Diapers and wipes
Mittens and booties – depending on the weather of course
Warm hat
Newborn finger nails are often extremely sharp so you may want to pack some clippers. Wearing mittens also will help to protect their delicate skin on their face from their finger nails.
Baby toiletries – shampoo, wash and towel
Don't forget Dad and Siblings
With all the fuss surrounding the baby and the expectant mother, care must be taken to ensure that the father of the baby and any siblings are not forgotten. You may want to pack a few essentials for them in a small bag such a change of clothing, fresh underwear and toiletries. Clearly they will be more mobile and can leave if required to get access to any major necessities if the need arises.
Having first-born siblings play a role is also critical. It is a nice thought to have a present exchange when they are first introduced. The baby may 'give' its older brother or sister a gift and vice versa. Some ideas can include rompers with funny messages, bibs or toys. It does not have to be expensive, it is the thought that counts.
My daughter received a toy camera and music jewellery box from her brother when he was born and she game him his first outfit and a soft toy. You should have seen her eyes light up when her new brother gave her a gift. It was really touching.
Pre-packed Hospital Bags
If you are looking to surprise someone with a pre-packed hospital bag, or you prefer to buy a package already done, there are so many ideas on the market to choose from.
Bags can be designed for the expectant mother or even a daddy bag. They can include all ranges of items from cosmetics, clothing, newborn items, pamper kits and so much more.
They are a great gift idea for a baby shower, or a gift for yourself.
You may want to have a sneak peek into them just to get some other ideas or suggestions for things you could also pack yourself. Just an idea!
If you want to get ahead, have a think about your diaper bag too, and what you may pack in that! Here is an essentials list and a guide to choosing your bag!
Car Seat
And remember, make sure you have a professionally fitted car seat installed prior to the birth ready for your drive home.
Here's to a happy and safe birth and a safe trip home.
Remember this is just a checklist. What you ultimately pack into your baby hospital bag for yourself, for your delivery and for your newborn is a personal decision. Try not to let this be a stressful time.