A postpartum capsule wardrobe is going to become your best friend. Essentially a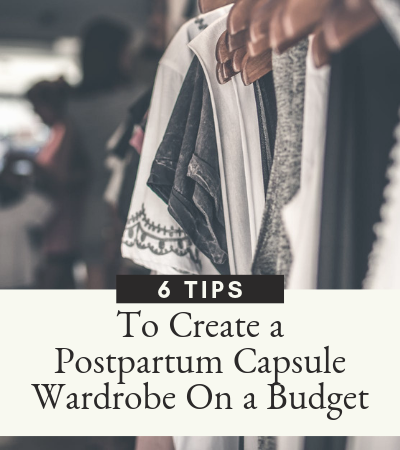 capsule wardrobe is a collection of essential clothing items that do not go out of fashion and can be mixed and matched with seasonal items.  When you create yourself a capsule wardrobe it will make postpartum life so much simpler.
All you need to do is consider the season in which your little one is going to be born, and start planning ahead for a very basic and repetitive wardrobe.
Leggings – They may not suit every woman but they are a staple item that works perfectly with a long knitted dress, poncho or long lined top.  Don't forget you may still want to wear your maternity leggings for a while longer too.
Maternity jeans/pants – Yes you read it right, maternity jeans.  The average woman does not fit into pre-pregnancy pants on day 1 so don't stress about it. And if you can squeeze into them but are having a bit of trouble with the zip, get yourself a belly belt or extender. They are fabulous.
Loose shirts – Remember nothing restrictive. Loose shirts and tops are perfect.
Button downs – Great for easy access whilst breastfeeding.
Jersey knit dresses – As mentioned above, these work great with leggings and are a quick throw on item.  Less fuss.
Cardigans – A cardigan or wrap not only keeps the chill off but can offer that extra coverage whist breastfeeding too.
Yoga pants – If leggings are not your style, yoga pants will be!
Tank tops/camisoles – You can never have enough of these tops – great to sleep in, wear underneath a shirt and perfect for feeding time too.
Comfortable shoes – Just like during pregnancy, you'll be wanting comfortable, easy to put on shoes. Your feet may still be swollen and there's nothing worse than restrictive shoes.
 Pajamas – Yes there will be days when getting out of your sleepwear will be tough so get yourself a couple of pairs of nice new pajamas. It could also just be a pair of comfy pants with a tank top and long sleeved over-shirt.
Underwear – In addition to your essentials you'll want to get yourself a couple of nursing bras or at least tank tops with a bra shelf plus underwear that is not too restricting in your tummy. You may want some period panties too and leak proof underwear to protect you from light bladder leakage!
Shapewear – Whilst a belly band will certainly help support your tummy in the early days, feel free to go all out and get yourself some Spanx.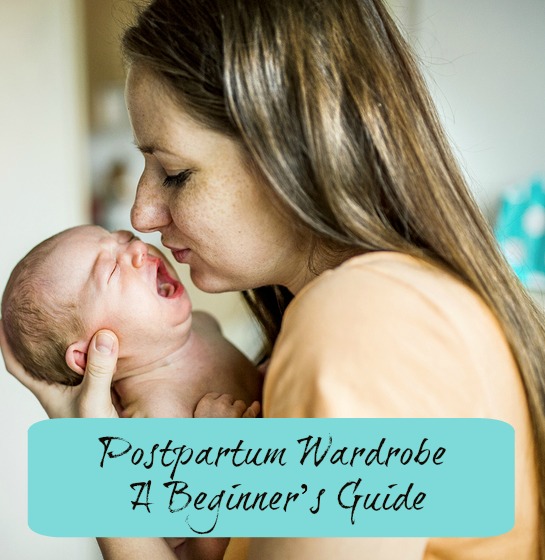 Remember our tips from our Postpartum Wardrobe – A Beginner's Guide, we discussed ensuring that everything you wear during this time needs to be able to be thrown into the washing machine and dryer. This is essential.
And when you buy multiples, it means you won't have to do the laundry as often.  Win Win!
6 Tips for Building a Postpartum Wardrobe on a Budget
1. Shop in thrift shops
When out shopping for your postpartum capsule wardrobe, consider a thrift shop. You may find clothes with tags will attached or a great item that is gently-used.  Remember it is only for that in-between stage when you are still losing weight.
2. Rent clothing
Whilst renting maternity clothes is a popular option, if you are not ready to shift back into your pre-pregnancy clothes, you can always rent a few 'maternity' items that give you the required comfort and flexibility.
3. Shop at yard or garage sales and markets
Whilst you will have to shop around, you may find some great bargains at yard sales. Don't forget to visit local markets too for clothing deals perfect for the postpartum period.
4. Gift 'wish list'
Sometimes it helps to create a wish list for your birthday or Christmas gifts. Not only will you help those who have no idea what to get you, but at the same time you'll be gaining an item that you really need.
5. Trade clothes with friends and family
Hand-me-downs are common and if you have a friend or family member that is willing to share clothing then take up the offer.
6. Work with what you have already
There are plenty of ways to make do with regular clothing.  A skinny belt can make a baggy top more fitted, layering clothing can help to give you comfort and more shape and belly belts can give extra give to pants, skirts and jeans.
Consider creating a series of mini capsules
If you've got extra time you may want to consider planning a series of mini capsules.  Your postpartum body will change quite fast so having a few options available will ensure you've got yourself covered.
The key is not to compare yourself to others and don't stress too much. Give your little one the attention they need and take the pressure off yourself by preparing a wardrobe ahead of time with a few basic essentials that will ensure you are comfortable.