A onesie decorating baby shower party is a fun and unique way to celebrate with a mom-to-be. Share some delicious food and drink, play a few games and then it's time to out pull out the craft supplies ready to decorate onesies.
If you've never heard of a onesie party, the concept is quite simple. During a onesie party, the guests are asked to decorate plain onesies, and then the guest of honor is left with an adorable and inexpensive wardrobe for her little one.
Throwing this type of baby shower party is definitely worthwhile and lots of fun.
Here are a few tips for making it a complete success.
What you need to host a successful onesie baby shower party
Onesies
Buy lots of plain onesies – you can choose white for a more gender-neural look or if you know the sex of the baby, why not go for pink or blue. In fact, there are no rules with colors, just ensure they are plain and have no words or motifs already printed on them.
Consider a range of sizes – 000 to size 1 at least – so the mom-to-be will have a long lasting supply of the custom-made outfits.
Short and long sleeves – Choose both short sleeve and long sleeve onesies to cater for all seasons and some with and without leg coverage too.
Opt for cotton or bamboo – Breathable fabrics will be more comfortable for the baby.
Prewash – Make sure all of the onesies are washed and dried before your guests begin decorating – no fabric softener.
Craft
Buy a range of craft goodies
Fabric paint, iron-on appliques, paint brushes and fabric markers
Rubber stamps in cute, baby-friendly shapes and designs work well too
Provide stencils so that everyone can feel successful in their design ability
Decorative bits of fabric, fabric scissors and craft glue
Fusible webbing or iron on adhesive
Buttons, bows, ribbons, needles and thread to add fun details
Design
When it comes to design, give baby shower guests the freedom to design unique, personalised onesies any way they like.  They may want to create a theme, write a message or just add a splash of color.
Once every one is done, use a sharpie or permanent marker, or other clothing labelling option to put each guest's initials on the tag of the onesie they decorated so that mom knows who they're from.
Display Time
It's then time to put the newest onesie designs on display. Create a couple of makeshift clothing lines and purchase lots of clothes hangers so that guests can hang their onesies to dry for about an hour, and they'll also have a chance to admire their handy work.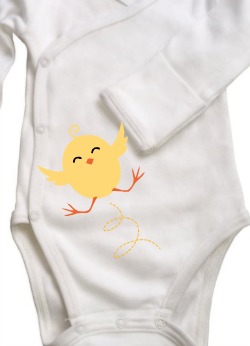 When the onesies are dry leave overnight for best results, fold them neatly, stack them and tie with a ribbon. Deliver them to the new mom.
Another great party decorating idea is bibs. Take the same general steps to create extremely fun and cute bibs for baby.