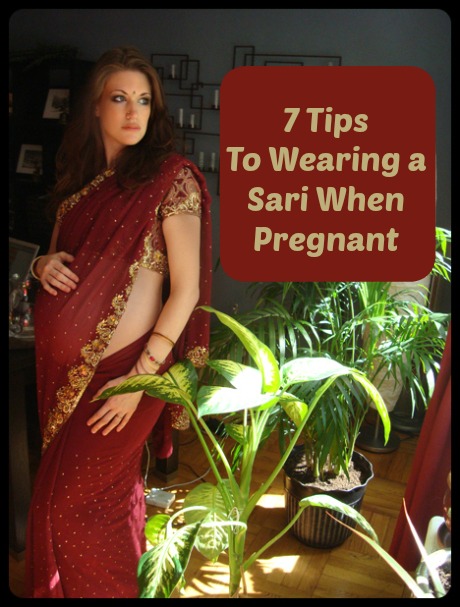 Many women give up wearing a sari during pregnancy because they're not quite sure how to drape one. A saree, or sari is a versatile piece of clothing that can never go out of fashion.
Don't give up wearing it citing pregnancy as a reason. If your mother and grandmother could wear a sari in pregnancy, you can too!
Just keep these tips in mind to look your elegant best and you will soon learn what works and what doesn't.  You may have to make a few concessions when dressing up to make way for your baby bump and to ensure your comfort.
7 Useful Tips to Wearing a Sari During Pregnancy
When you wear a sari (saree) during pregnancy, not only you look graceful and elegant, but also hide that baby bump comfortably. Though the first and second trimester will not pose a problem, carrying a saree in the last trimester may be slightly tricky so be careful.
1. Opt for lightweight fabrics
Light weight chiffon, cotton or georgette fabrics are your best bet.  A saree can be very heavy and when you are in your third trimester you won't want to be carrying around lots of extra weight.
2. Loose fabrics
The fabric must not be stiff and rough in anyway, especially if you are going to wear the saree for a long duration.
3. Use a belly band
If you don't want to show off your bump too much, you can hide it a little with a belly band. Pick a band in a color that matches your saree as closely as possible or if you can't find one, make a quick cover with some stretchy material.  Once your belly belt is on, wrap the fabric around your belly before draping your saree and you're done!
4. Choli Blouse
Another option to help you cover your tummy is to wear a choli blouse.  Find one that is long enough to cover you up till your midriff. Just make sure it is not too tight on your waist and belly especially while sitting.
5. Consider a new drape
There are many ways to drape a saree especially during pregnancy so experiment and have fun.  The Bengali drape or the Coorg drape could be your style. You could also opt for the Gujrati drape if you want to hide your belly, where the pallav is draped around the belly.
6. Show off your belly bump
If you are happy to show off your baby bump, go ahead and tie your saree below your belly. It's one of the best ways to drape a saree during pregnancy.
7. Drape your saree above your bump
Another style of draping a saree during pregnancy is to tie it above your baby bump instead of below. Just be careful to check the way the saree pleats fall.