It's not about faking a pregnancy, but seeking out ways to make yourself look more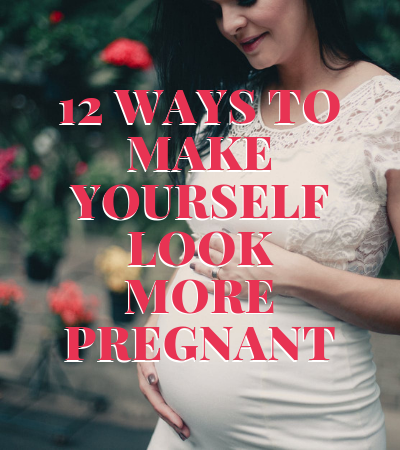 pregnant than you actually are. Not every belly bump develops in the same way or at the same speed. Women are often concerned with how they will look when they are pregnant, will they look fat and will people be able to actually tell?
Some women look pregnant right from the start, some not until near the end. A lot depends on your particular shape and size. Women who are much larger tend to show less obviously but also I've seen large women who were obviously pregnant and very petite and small women who didn't show their pregnancy much at all. You just never know.
If you are wanting to define your tummy just a little bit more, and avoid the "Is she pregnant or is she just getting fatter" looks, here are 12 ways to make yourself look more pregnant.
Maternity clothes: Go out and get yourself some cute maternity tops and start wearing them right away. That's always a giveaway, even if you are not showing yet. Check thrift stores for preloved maternity clothing which will probably be the cheapest option too.
Empire waist or babydoll-style: Clothes in these designs, whether it be a top or dress make you look more "pregnant".
Larger size clothes: Avoid buying clothes in a much larger size as you'll just end up looking big, and that's not the plan.
Hold your belly: If you're not yet ready to dress yourself in maternity wear, you can always draw attention to your tummy by putting your hand on your belly when you walk around.
Get the right size clothing: Buying maternity clothing in the right size is easier than you think. Our maternity clothing guide gives you more detail, but in general, buy your normal size and you'll find that the cut and style helps to accentuate your shape perfectly.
Pregnancy talk: Nothing screams pregnancy more than mention the word over and over or being 'seen' browsing a baby magazine in the local mall.
Maternity jeans: Maternity pants come in a range of styles and cuts, typically with a full tummy panel that support your belly and give it more of a defined shape. Here are 3 maternity jeans that you could look at.  Pair them with a maternity top and you'll be looking pregnant and well on your way.
Waddle: Pregnant women in their third trimester often start to walk with a bit of a waddle. You can always start arching your back, holding your lower back and pushing your tummy out when you walk.
Maternity underwear: Maternity underwear that is high waisted with a tummy support feature can actually accentuate the shape of your belly and give it more of the round look.
Look like you've gained weight: Make it appear that you've gained a little bit of weight. As pregnancy progresses, women begin to gain weight naturally so you can always start changing the clothes you are wearing to make it look like you are trying to hide it.
Wear horizontal stripes: Normally it is recommended that heavily pregnant women should avoid wearing horizontally shaped clothing with horizontal shapes but in this case go for it.
Bright colors: Black is known for its slimming effect to seek out clothes with bright colors.  Something like yellow or white might help create the illusion you've gained some weight too.
At the end of the day, don't ever feel like you need to conform to anyone else's perceptions about what you "should" look like or dress like when pregnant.  Also don't compare your belly to someone else's. Everyone is different and everyone holds their baby differently.  Enjoy your baby belly, whatever it looks like.
If you are the other extreme and you are looking for ways to hide your pregnant belly, there are plenty of clever tricks you can do with clothes to achieve that result too!