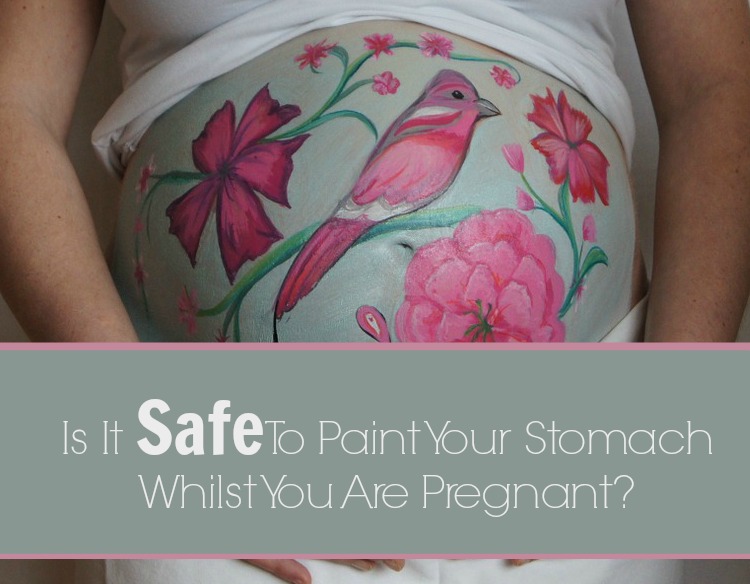 Belly painting can be a fun way to express yourself when you are pregnant and a great way to show off your growing baby bump.
It's a popular activity and there are many reasons women choose to do it.  If you are keen to know more, here are some important tips to consider and a guide on how to choose safe belly paint.
What paint is safe for belly painting?
It is essential that you use paint that is specifically designed for skin.  Paint needs to be non-toxic, and avoid latex or acrylic paint.  Look out for paint that is face paint, and one that can wash off in water.
The safest paint to use is an FDA approved (Food and Drug Administration), water-based paint.
You can buy belly painting kits which already come complete with all the essentials and have the tick of approval from a safety perspective.
This kit contains 8 gorgeous colours plus a brush, sponge and some inspirational ideas to get you started.
This becomes a great fun activity and best still it is safe for everyone, including your baby.  Any unused paints can be stored for future use too.
Belly painting tip
Test a patch: When you are pregnant, your skin can send to be more sensitive so it is worthwhile doing a rest run.  Apply your chosen paint to a small area of your skin and watch for any reaction.
Belly painting ideas
Let your mind run wild.  When you are looking for some inspiration for your belly art, here are some ideas which may trigger a design:
Seasons or annual events:  Easter basket, Summer beach and sun, Winter snowman, Halloween pumpkin, Spring flowers, Christmas ornament, Valentine's Day heart.
Creative designs: Watermelon, symbols, hand prints, random colors, an image of a baby, your favorite flower or sports team.  Butterflies, birds, teddy bears and rainbows are also gorgeous.
You could also have a baby show belly painting event, and have your friends and family autograph your belly or paint their own unique design.
If you are looking for some additional inspiration, you can get yourself these fun baby bump belly stickers or browse our gallery of 20+ clever, cute and creative pregnant belly painting ideas.
They are a great maternity photo prop, are completely safe and non toxic.  They even make a wonderful gift for an expectant mommy.
Is it safe to paint your pregnant belly?
Yes it is as long as you use the appropriate paint and take all safety precautions.
Maternity photo session ideas 
If you are planning on having some pregnancy photos taken and are looking for ideas on what to wear, take a look at our 14 recommendations.  Remember, belly painting is another great way to show off your tummy during a maternity photo shoot!
Did you get your belly painted? What design did you choose and why? Share a photo too. We would love to see them.