Maternity belts are one of the best aids to ease the discomfort of pregnancy – they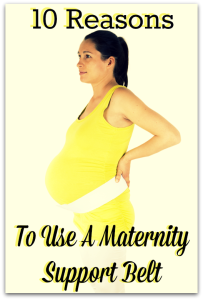 come in three main types and range in price but they'll be one of the best investments you can make for your pregnancy wardrobe. However you should be aware that they can support your bump and relieve pain, but they do not fix the underlying issue if you have a legitimate medical condition.
Many US insurance companies  cover the cost of a pregnancy support belt.
So what are the benefits of using a support band during pregnancy?
Helpful if you are still working and on your feet a lot during your pregnancy.
Useful if you've gained excess pregnancy weight or have polyhydramnios (excess amniotic fluid).
Have a twin or multiple pregnancy.
Relieve lower back pack, which is common in pregnancy due to the extra off balance weight.
Provide relief for the symptoms of Symphysis Pubis Dysfunction (SPD) or Pelvic Girdle Pain (PGP), common issues during pregnancy.
Hip and pelvic pain caused by the release of the hormone relaxin which prepares your body for labor.
Relief for sciatica – a common nerve pain which can spread down the back or leg.
Relief for round ligament pain – common stretching pains in pregnancy.
Support for women who suffer from hernias in pregnancy.
They can be used to help your muscles strengthen and be supported (along with exercise) after having your baby.
Whilst there is no known evidence, wearing a support band may help to reduce the onset of stretch marks!
What Types of Maternity Belts are Available?
The three main types include the cheaper and simpler single strap belt, the extra support belt which includes a strap across the top of the belly too, and thirdly, the full prenatal cradle, which spreads weight across the back and shoulders and provides a much wider range of support.
Is It Dangerous To Wear A Maternity Belt?
For women who are experiencing ongoing issues that can't easily be fixed with other medical aids, a belly belt can provide immediate and wonderful ongoing relief while in use. However if you plan to use a maternity belt to help with a health issue such as pelvic pain or another pregnancy related condition, you should make sure you work on using other methods in addition to the belt to fix the underlying problem. The belts should not be worn for more than a few hours per day as this will make your muscles dependent on the extra support and won't fix the issues already present. The belts will provide ongoing relief, but they will mask instead of help to fix or prevent any underlying issues.
It is also important to be aware that wearing a belly belt or maternity support belt will not hurt your baby.
How To Relieve Pregnancy Pain Without Relying Fully on a Maternity Band
A maternity belt is a great aid in providing support and pain relief, but you should always work on correcting the underlying issue. Some things which can help address these issues include:
Good posture.
Regular exercise.
Doing both kegels and squats to strengthen your pelvic floor (seek your doctors advice if you have an issue such as PGP or SPD however.)
See a physiotherapist.
Attend a pregnancy Yoga class.
Increase your magnesium intake by using a natural magnesium spray. This relieves muscle pains and has the added benefit of helping with morning sickness.