Lemon juice is a simple, natural alternative that can replace countless bottles of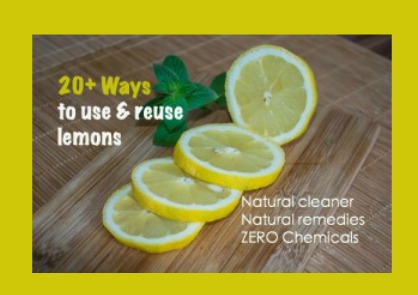 over-priced chemicals. And when you are pregnant or have a house with young babies and children, you're going to want to try to avoid as many chemicals as possible.
If you have lemons laying around and are looking for some clever ways to use them and their juice, here are some great ideas.
21 ways to use lemons
Natural cleaning solutions
Grease removal

 

–

 A mixture of plain water and lemon juice is tough enough to bust through any grease on your kitchen appliances and counter tops and can even help with clothing stains.

Disinfect and deodorize your kitchen

 – Is your refrigerator or cutting board 

really

 clean? Surfaces where we prepare and store food need to be clean, but this is also exactly where we don't want to use toxic chemical cleaners. Lemon juice is excellent for disinfecting these surfaces, and will also remove unpleasant stains and odors.

Clean glass – Lemon juice is just what you need to bring the sparkle back to that dull vase, coffee pot or decanter. You can also use one part lemon juice in ten parts water to shine your windows.
Remove tarnish – A simple paste of table salt and lemon juice can make tarnished copper, chrome and brass gleam again. Apply the mixture, allow it to sit for ten minutes, then rinse with warm water and buff gently to shine.
Clean your toilet – Even though you may be pregnant, housework is never done and when it comes to cleaning the toilet, typical store-bought products are harsh and can contain dangerous fumes. A mixture of borax powder and lemon juice will leave your toilet looking (and smelling) as good as new!
Clean your refrigerator: Pop a couple in the fridge overnight to clean out any lasting smells.

All purpose cleaner: Add them to vinegar and they make for a miracle cleaner.

Sink cleaner: Rub lemons in your sink to not only clean it but make it shine.

Clean cutting boards: Pour some salt on your cutting boards and rub the inside of the lemon over them to clean.

Microwave: Clean the microwave…works great.
Natural beauty and health solutions
Sooth a cough

 – Mix some raw honey with an equal amount of lemon juice to ease your coughing. This also works well for a sore throat and is a natural solution whilst pregnant.

Enhance digestion

 – Fresh lemon juice in water can aid digestion during meals. It's also a great way to hydrate in the morning when you first wake up and we all know how important it is to keep up your water intake when pregnant and through breastfeeding.

Tone your skin

 – Use a cotton ball to apply a light layer of diluted lemon juice to your skin. Let it sit for ten minutes and then rinse away with cool water. The lemon juice will naturally exfoliate your skin, and can also lighten dark spots and scars. 

Clean and soften your hands

 – Lemon juice is excellent for removing stains and odors left on your hands. Lightly scrub the lemon juice into your hands with a sponge, then rinse and moisturize as usual. Your hands will feel clean, soft and fresh.

Get sun-kissed hair highlights –

 Chemicals used to lighten hair can be highly toxic and should be avoided when pregnant. 

Get natural highlights by spritzing your hair with lemon juice before you go out in the sun. As an added bonus, rinsing your hair with lemon juice removes build-up and gives your locks incredible shine.

Blackhead removal: Add honey to squeezed lemons and apply to face for a natural blackhead removal treatment.
Exfoliant: Rub on your face/neck/hands for 10-15 minutes. Lemon juice is rich in alpha hydroxy acids that help exfoliate the skin and get rid of dead skin cells.
Other clever uses for lemons
Repel pests: Place your squeezed lemons in your shrubs by the door and the scent will help to repel pests.

Air freshener: Simmer with cinnamon and nutmeg as an "air freshener" when company is expected.

Freshen up the garbage: If you have a garbage disposal, you can toss them in there to freshen it up.
Candle:  Fill them with wax and a wick and make an awesome candle.
Cook:

Grate the rind and bake something lemony
Reach for a lemon to avoid using toxic chemicals when you next roll up your sleeves and clean your clothes or items in your home.  Look for natural alternatives to pills when you are treating a cold or seek something soothing to pamper your skin.  Lemons are fantastic in many ways.