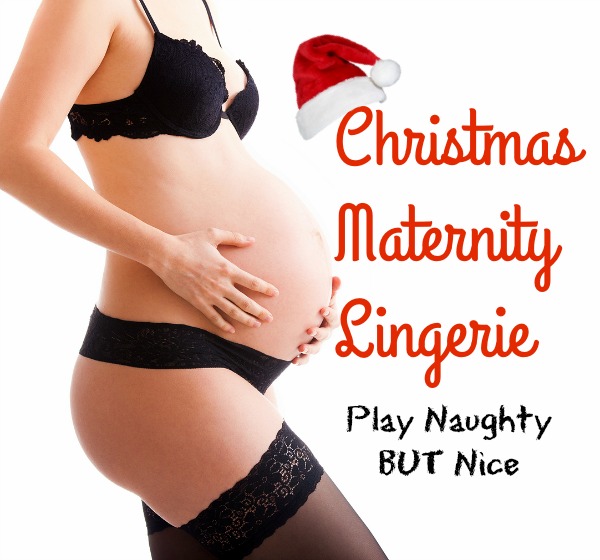 Go ahead and buy Christmas maternity lingerie. Sexy, feminine and gorgeous maternity lingerie is designed to accentuate and outline your womanly form in just the right way. Just because you are pregnant does not mean that you should not look and feel sexy. Maternity clothing is not all baggy tops and belly belts.
Everything from the finest maternity panties to nighties, babydolls, and negligees can be found in a maternity lingerie aisle. You can also get plus size maternity lingerie or any beautiful maternity pajamas designed especially for you!
Grab something for those special occasions and don't forget Christmas too.  Christmas maternity lingerie is always a good idea to help rekindle that spark of passion and romance!
Here are a selection of the sexiest maternity lingerie pieces perfect for any occasion plus some festive number that won't have you looking like a Christmas tree ornament.
This Christmas lingerie is sexy, soft and stretchy. Perfect for a growing belly and can also be worn postpartum.
It has a sheer look with a visible lace design.
Could this babydoll nightie be just what you are looking for?
Now here's a fun festive idea.  Thigh high striped stockings.  100% nylon and easy to wash, these red and white stockings complete with buckle might just add the festive touch to your maternity lingerie outfit.
This certainly is not everyone's cup of tea but it is a funny one. A body bow. Yes. just a bow. And a red one at that. Perfect for a birthday, Christmas or Valentines Day Gift, the Naughty Knot enables you to be the present!  Just wrap yourself up and wait to be unwrapped. This one piece bow opens easily with just one gentle pull.

Here's a fun outfit perfect as a Christmas costume too. Made from spandex and designed to showcase lace and mesh, this is super stretchy and is a stunning sexy Christmas maternity lingerie outfit.
The red and white Christmas sleepwear and nurse costume could add a little spice to your Christmas Eve.
Christmas Lingerie Robe
Perfect for Christmas, this lingerie robe has a belt that sits just beneath the breasts leaving your belly free. Made from spandex and in a brilliant red, it could very well top off the night.
In fact there are so many maternity lingerie options available you'll find it hard to pick just one. And if you are feeling extra naughty, get one of these Ring For Sex bells so that you can let your lover know when it's time to play.
Put the Ho Ho Ho in his Christmas this season. You will look your sexiest in any Christmas maternity lingerie. Become his favorite gift to unwrap this year with these sexy Christmas lingerie items that will set the night on fire!