During the warmer months or when your feet are swollen, it's common to turn to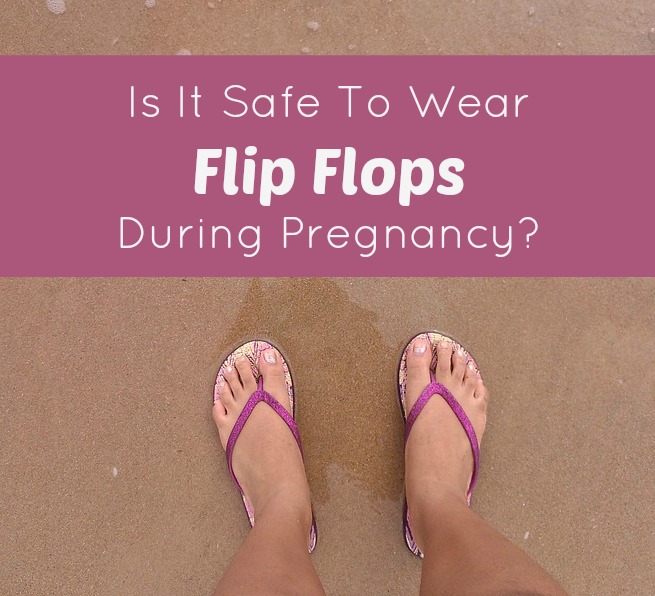 comfortable flip flops when pregnant.   They are easy to slip on and off, keep your feet cool and nice and flat (we all know to avoid heels when pregnant…right?!)
Are flip flops, also known as thongs (not the undies variety) safe to wear?
Flip flops are a go to pair of shoes for pregnant women. In addition to heels though, flip flops, ballet pumps and Ugg boots are often considered unsuitable footwear because they offer little support for the joints.
Weight gain and hormonal changes during pregnancy can have a huge impact on the body.  Muscles and ligaments soften and stretch because of an increase in the ovarian hormone, relaxin, which makes feet more prone to ankle and ligament strains.
Are flip flops safe? Technically yes, they are however just be aware of a few things if you do decide to wear them:
Thickness: Try to get yourself a relatively thick pair of flip flops (not too thin), so that you get some cushioning underfoot.
Pain: If you start to feel pain in your back, legs or feet, stop wearing them immediately.
Stability: Some pregnant women find they have less stability particularly in the third trimester and people can be known to trip wearing shoes that are not entirely stable so keep that in mind.  Any falls can hurt you and your baby!!
Benefits of wearing flip flops during pregnancy
Many pregnant women continue to opt for flip flops (whilst being aware of the risks) because of the benefits they feel these shoes provide:
Swollen feet: Flip flops are great for when you have swollen feet when pregnant
Heat: There's nothing worse than wearing a pair of closed in shoes in the heat. Flip flops allow your feet to air and keep cool
No more bending over: Have you ever tried to bend over and tie a pair of shoes with a big belly? Flip flops are the perfect solution.
These pregnancy Flip Flop Sandals are super comfy, very pretty and they have a cloth strap that provides just that extra give when you need it most at the end of the day when your pregnancy feet are swollen and tired.
At the end of the day, the shoes you choose to wear must be a personal decision and one that is right for you. Some people hate flip flops, and some love them.  So what are the best type of shoes to wear when pregnant?  If you are looking for a range of comfortable shoes to wear during pregnancy, take a look at our recommendations.  There are some boots, sneakers, sandals and even work shoes.
What's your go-to pair of comfortable shoes when you are pregnant? Do you like flip flops or avoid them?