A maternity photo shoot is one of the most wonderful ways to document your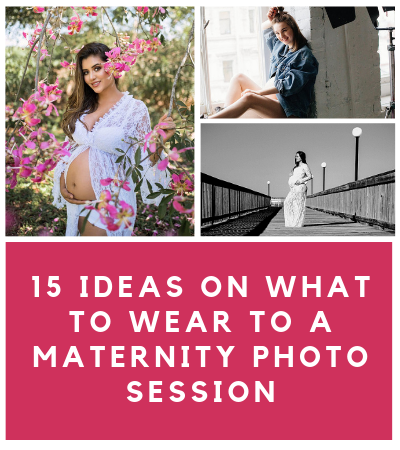 pregnancy.
If you are planning a maternity photo session, try not to be shy about your body. It is just as important to choose clothing that makes you feel comfortable and beautiful.
Women who choose to have professional photos taken of themselves during pregnancy recognise that these images are possibly the most intimate photos that will ever be taken.  And with every pregnancy a unique experience, it is essential that you have the perfect outfit to ensure your memories last a lifetime.
Here are 15 ideas on what you can wear for your maternity photo shoot to ensure your belly gets the definition it deserves:
1. Skinny belt
A simple belt can cleverly accentuate a beautiful belly.  And not just any belt, but a skinny belt. You can get away with wearing your regular loose tops, belted above your belly. This look is super flattering because it shows off the thinnest part of your body, it will define your belly and make it stand out just as intended.
2. Solid colors
Keeping with the 'keep it simple' theme, it's important to keep your clothing choices pattern free. The main focus will be your tummy to opt for solid colors and keep florals and stripes for another occasion.  Don't be afraid to wear bright pops of color to jazz things up a little too.
3. Classical
There's nothing worse than looking back on your maternity photos and seeing yourself in an outfit that was really only suitable for 'that place in time'.  Go timeless and choose classical looks that will not date.
4. Nude or almost nude
Sometimes natural is best. If you've got the confidence, why not opt for a maternity shoot where the only thing between your birthday suit and the camera is a slinky piece of fabric, some very brief panties or nothing. It certainly makes for a once in a lifetime opportunity.
5. Belly painting
If you are looking for a unique look, you could always organise to have your belly painted. The designs are almost endless and can be cleverly tailored to suit your own style.  Make sure you opt for safe paints or hire in a professional who knows how to treat your skin safely. It would make for an awesome piece of art!
6. Figure hugging clothing
It goes without saying that you're going to want to wear clothing that shows off your bump.  So if you're not wearing a belt to accentuate your belly, consider wearing tight clothing.  Flaunt your curves, your cleavage and really let your body shine. A pregnant body is beautiful and worth being proud of.
7. Maxi dress
A maxi dress is a staple item of clothing for a pregnant women and when it comes to a maternity shoot it is a perfect choice too.  Not only it is super comfortable but it can be sculpted around your body, it very flattering and it hangs perfectly in all the right places.  If you're not keen on figure hugging clothing, a maxi dress covers up anything you don't want shown, and the flowing fabric looks superb.
8. Barefoot
For the ultimate comfort photo session, leave your shoes at the door. Go barefoot and create a more natural look.  After all that's what you are after isn't it?  However if you do prefer shoes, avoid heels and opt for wedges! Wedges will give you that little bit of extra height, elongate your legs and keep you comfortable.
9. Lingerie
If you are keen on creating a sexy look, how about some gorgeous lingerie. It may not be everyone's cup of tea but beautiful lingerie can really accentuate a women's body and when done with a professional angle, can look gorgeous.
10. Avoid jewelry
Other than a wedding band, an engagement ring and a pair of simple earrings, try to avoid wearing large chunky pieces of jewelry.  Watches and over the top necklaces detract from the star of the show, your belly!
11. Keep it simple
A pair of jeans and a gorgeous white shirt is also a simple look that can create wonderful photos.  Open the buttons of your shirt to reveal your tummy. Simple and effective.
12. Classic white men's shirt
A more common wardrobe choice for women having a maternity photo shoot is to wear her husband's shirt.  A classic long lined white shirt that is open just enough to show the belly. It is a long-standing classic of maternity photography.
13. A robe
A gorgeous satin or silk robe that can cover parts of your body you want hidden and expose your belly is a great option.  Just like a gorgeous piece of flowing fabric draped around you, it can really set the scene and make for stunning photos.
14. Back ups
Don't stick to one plan and one outfit. Discuss with your photographer a range of ideas and be open to trying something new. You may also want to create a few different looks and see what ultimately comes out best.
15. Countdown Maternity Top
A countdown maternity t-shirt is a top that shows just how far you are along in your pregnancy.  Have some fun with your growing baby bump and mark down the weeks to delivery.  Perfect gift idea for a baby shower too.
Don't forget that the most important part of any maternity photo session is you.  Your clothes come second to your precious belly.  Whilst planning a great outfit is definitely something that can help make your pregnancy photographs extra special, you need to be comfortable.
Let's not forget about the men.  Here are 8 tips on what a men should wear to a maternity photo session!
And if you are looking for some more unusual maternity photo session ideas, take a look at these. You'll find inspiration with underwater photos, a milk dress and a milk bath…