Not every pregnant woman wants to wear a maternity shirt that reads like a bumper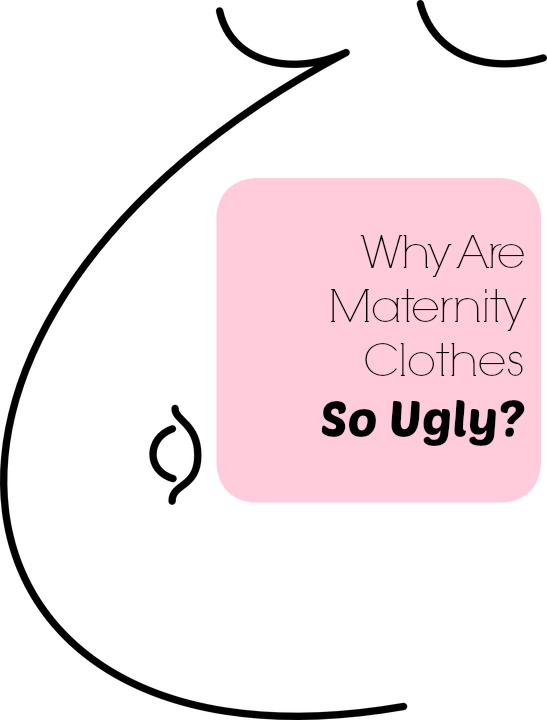 sticker, dull dreary designs or clothes covered in horizontal stripes!
It's the same reason many women feel that plus sized clothes are ugly. Do designers think that anyone with a little bit of weight on them doesn't care about wearing anything nice?
Let's face it, not all maternity clothes are cute, flattering or suit every woman. And when you find the perfect nursing top, maternity dress or pair of pants it will probably come with a hefty price tag….which leads me onto the next question of why are maternity clothes so expensive? But we will get to that later.
Here are some tips to avoiding ugly expensive maternity clothes:
Buy second hand – There are plenty of pre-loved or once-worn maternity clothes. So if you do happen to find an outfit you love it certainly won't come with a ridiculous price tag
Wear your regular jeans – You don't have to buy maternity pants or jeans. There are plenty of ways to extend the life of your 'normal' jeans.
Wear regular clothes – Whether you are looking for maternity or breastfeeding clothes, there are some very versatile items you most likely already own that will be very useful and even more comfortable.
If you are on the lookout for some pretty maternity clothes, here are some super cute,  relatively inexpensive maternity clothes that can take you right through your pregnancy and beyond.
Not only is this dress very inexpensive and a flattering design, it is also perfect to dress up or down.  And because of the cut, it can be worn as a maternity dress, for breastfeeding, and postpartum.  It's a fabulous dress that is no where near ugly. Don't you agree?
Here's another idea.  This top isn't designed to be a maternity top but the flowing design makes it a perfect option and is also very nicely priced. Made from chiffon, it will keep you cool in Summer and is great for an evening out or lunch with friends.
Every woman needs a pair of comfy leggings and these are absolutely fabulous.  They look like normal leggings, but have a secret belly support built in.  Super stretchy and super cute.
There are lots and lots of clothes that you can find which will not only support your belly but make you feel wonderful.  Avoid buying the wrong size clothes, and look out for items with bright colors, floral or geometric prints or designs that are loose and flowing. Don't be afraid to inject a little personality into your wardrobe and enjoy yourself!
What's your biggest tip to avoiding the ugly maternity clothes and finding items that are feminine, versatile and long lasting?